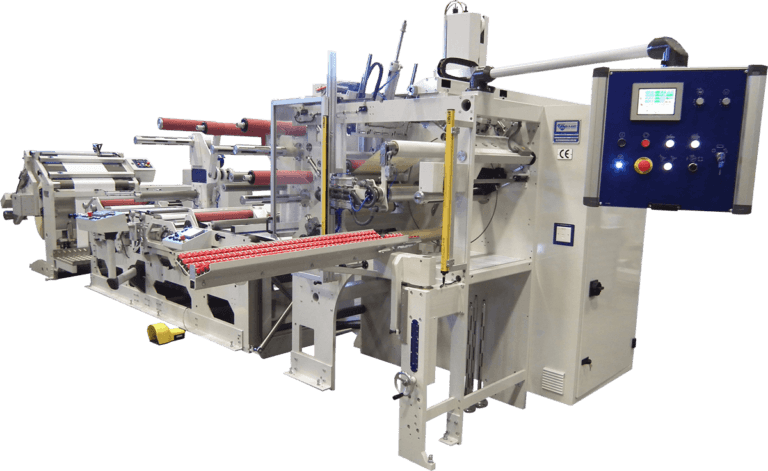 Opal Label Converter
A label converter designed to meet the needs of the adhesive label industry
A wide range of converting solutions are available for the die-cutting of blank or pre-printed labels.
Our servo-controlled re-registration system is able to achieve tolerance levels of +/- 0.1mm on one, two or three stations.

If you are interested in finding out more about the [page_title] , please fill out the following form and a member of our team will be in touch with you soon.
Opal

Narrow-Web Label Converters & Converting Lines
A popular product in our label converter and label converting line category, the Opal series converter uses a full array of direct AC Servo motor control. The Opal Series label converter offers the ability to high-speed full rotary die cut supported products, both paper and filmic in forms of traditional vertical die stations as well as horizontal stations.
Die station design is modular and can be engineered to suit standard sizes of Ashe die tool or existing die tools currently running in existing equipment, or both (with the right tooling included).
Tension isolation is achieved by both in-feed and out-feed direct servo-driven nip-drive assemblies before and after the die stations. This allows for precise die cutting and some of the best tolerances available on the market today. The Opal allows for pre-printed high-speed die cutting with the additional option of register control.
Both vertical and horizontal type stations can accommodate precise 'adjustable anvils' to give better die-cutting adjustments. All makes of anvil system are available to be engineered into every station as required. The die stations are Ashe-patented, designed to allow engineering changes to suit final requirements.
Other converting facilities are also available, including delam/relam units, full laminating stations, spot and flood coat Flexo stations, back scoring devices and full in-line ink-jet printing.
As standard, the Ashe patented fully automated 'glueless' turret system can be added to lines allowing fully automated Converting Lines.
All converting requirements can be engineered into modular design
Various forms of unwind designs
Vertical and horizontal die station designs for application and easy tool load/unload
Edge trim removal options
Advanced matrix stripping options with special servo strip assist and servo rewind
Print options available both flexography and digital ink jet
Laminating stations
Automated knife SLITTING system (AKSS)
All forms of slitting knives available (rotary, crush, razor)
Very accurate tension profile settings throughout every converter
Various forms of web guiding systems for different substrates
All machines modular to allow for further equipment to add after initial installation
Colour HMI touch screen(s)
Missing label detection and inspection systems available
4 spindle glue-less turret rewind or simplex/duplex rewinds
All sizes of rewind core ID as well as coreless rewinding
Full inter-label cutting feature to allow for exact batch of labels every roll
Full automated core loading options available
Material width
340mm (13")
440mm (17")
540mm (21")
600mm(24")
Maximum rewinding diameter
400mm (16")
600mm (24")
Machine speed
250m/min (820ft/min)
Materials to be run
All substrates (mainly supported)
Operation
Direct AC Servo
Label Converters & Converting Lines Narrow-Web

Key Features
Discover why our clients choose us for their slitter rewinders and converting machinery.

If you are interested in finding out more about the [page_title] , please fill out the following form and a member of our team will be in touch with you soon.